The Sonoma State University website was designed with ease-of-use high on its list of requirements. In order to give you a jumpstart on some of the new features here is a short primer. 
The new site is device friendly, making it easy to read and navigate on any device — desktop, mobile and tablet. 
It will take a couple days for the new site to be included in the SSU search function. Keep this in mind when performing a search of the main site.
The hamburger menu in the top right corner of every page opens up to the main menu for the site. It appears on every page and will provide consistent navigation throughout the SSU website. You will also find the search and login buttons right next to the main menu. The SSU logo in the top left of each page is an easy link back to the SSU homepage from within the site.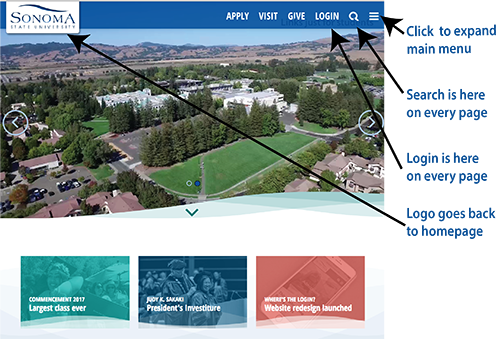 The main menu contains a search field at the top, followed by links to the A-Z, Directory, Maps, Athletics, Library, Student resources, Faculty & Staff resources and Alumni. Below these links are the top-level links of About, Academics, Admissions & Aid, Campus Life, and News & Events. Each of these areas expands to show more links by clicking on the plus sign. Conversely, clicking on the minus sign collapses these menus.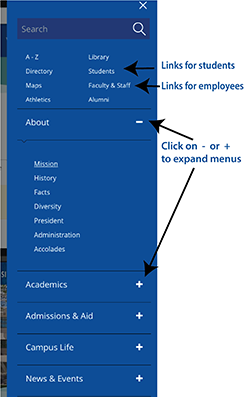 Having trouble finding your web page? Here are a few tips:

Check the A-Z listing that is available toward the top of the fly-in main menu.
Look under the student or faculty and staff resources pages. These are also available toward the top of the fly-in main menu.
Use the search function. 

Another easy way to get around the site is by using the breadcrumb navigation that is found just above the headline of each regular page.
On a mobile device, you find the main navigation icon at the top right corner, just like the desktop site. The link to the login screen is found in this fly-out menu.