Launch June 6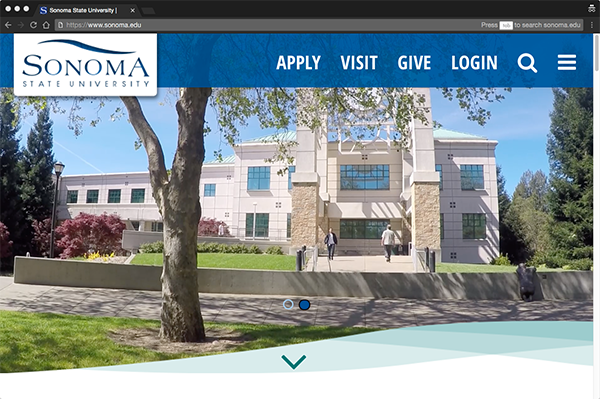 On June 6 at 10 AM, several changes to the University's web sites and web infrastructure will be put into production.  These changes are part of an ongoing project to:
Update SSU's web publishing platform to use Drupal, an open source web content management system
Modernize SSU's web design
Improve accessibility and usability for the SSU community and campus web content editors
Phase 1 Changes
These are the sites that will be updated on June 6.
Online Services portal
SSU homepage
Top-level pages like A-Z, Maps, About SSU and similar
Admissions
SSU News (formerly Newscenter)
Accessibility
Disruption to Services Minimal
For most users, there should be no noticeable disruption to services. There may be a very brief period (a few minutes) where Single Sign-on sessions are terminated early, but most users should not experience this.
Tip: If your session is terminated, simply log in again.
Some users may not see the new page design immediately.  Clearing the browser cache and reloading the page should display the updated design.
Reasons for the Project
See the Redesign Project page for more information about why we're making these changes, and to see comps of the new design.
Online Services Portal Changes
Each service linked with a tile-sized button.
New design is mobile friendly.
More services are in the portal (e.g. Zoom, SonomaSync and others).
Users can customize the order of portal service buttons.
Announcements can be dismissed from the top of the page.
Info buttons reveal descriptions and support links.
Same look as SSU's new homepage design.
Screenshots of the redesigned portal are available.
New URLs and Redirects
Because the SSU homepage is moving to a new server, other sites currently on www.sonoma.edu  will temporarily get a new URL: web.sonoma.edu.  Requests for sites at their www.sonoma.edu/(some-page) URLs will be automatically redirected to the new URL.
For example, requests for the Biology Department site at www.sonoma.edu/biology will be automatically redirected to the new location web.sonoma.edu/biology.
When department sites move to Drupal, they will be assigned a permanent subdomain URL - for example biology.sonoma.edu.
Changes to Dreamweaver and other WebDAV clients
No changes to Dreamweaver or other WebDAV client settings are necessary.  Employees who edit existing sites on www.sonoma.edu that are not part of Phase 1 will continue to access those sites as usual, until the sites move to Drupal.
Departments should not need to make any changes to their existing sites, which should continue to function at the new web.sonoma.edu URL.  However, any department web editors who notice problems should contact the IT Web Office for assistance.
What's Next?
Phase 2 of the redesign project is to move department sites (divisions, schools, departments, programs, and other organizations and project sites) to Drupal.
The Redesign Team has developed a process for preparing department site content for the move to Drupal, and for providing basic training to department web editors.  Some department web editors have already begun work.  The Redesign Team will resume working with those departments to build their new sites.  Departments that have not yet started on this process will be contacted by University Creative Services to schedule a kick-off meeting.
Questions? Problems?