Ming-Tung "Mike" Lee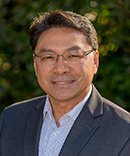 President
(707) 664-2156
president@sonoma.edu
Ming Tung "Mike" Lee, Ph.D. begins his tenure as interim president of Sonoma State University on Monday, August 1, 2022 – after being appointed by California State University Interim Chancellor Jolene Koester.
With a career spanning 28 years at Sacramento State, Lee held several university leadership roles including vice president for Administration and Business Affairs/chief financial officer as well as interim provost and vice president for Academic Affairs.
Lee retired from Sacramento State in 2018 and has since held emeritus status on the Sacramento State campus as a professor of Business Administration.
Lee joined Sacramento State as an associate professor of marketing in 1990 before being promoted to professor in 1997. He also served as associate vice president and dean/vice provost for academic programs from 2005-10. He has served as a member of the faculty since then in addition to his administrative appointments.
Lee earned a bachelor's degree in literature from Tunghai University in Taichung, Taiwan, and a master's degree in international commerce and a Ph.D. in business administration from the University of Kentucky.
Dr. Lee was the first Asian to serve in the Provost and the Vice President/CFO positions for Sacramento State.
Dr. Lee and his wife, Fei, have a daughter and two sons.